My last couple of days in Paris have been eventful, to say the least! I have already visited many of the most famous sights (such as the Arc du Triomphe, the Lourve, and the Eiffel Tower) with the entire Gannon family, so I focused on filling in some of the gaps in my experience. After arriving on Saturday and going out for crepes for dinner, I woke up on Sunday and headed to the Musée l'Orangerie. This museum contains the special Monet rooms that the artist designed himself, with ginormous panoramas of his waterlily series called "Les Nympheas."

Then, after lunch in the Tuilleries Gardens, Emma and I got spots on the Champs-d'Elysses to watch the final laps of the Tour du France. It was really impressive watching all the bikers whiz by at high speeds, especially since the peloton passed less than a yard from us!

Today (Monday), I woke up early to catch the train to Giverny to see Monet's house.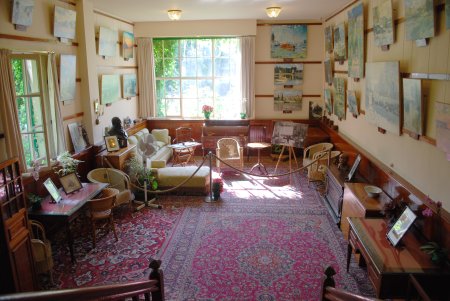 It was a fantastic experience, and his garden was absolutely beautiful!

I loved seeing the waterlilies and weeping willow in real life, since his paintings really capture the essence of his garden.

Basically, I was in heaven, since I have wanted to visit Monet's house since I was in pre-school!
In the late afternoon, I had some extra time, so I also stopped by Notre Dame.

I particularly liked the statue of Joan of Arc, my favorite saint.

Overall, I've had quite a nice couple of days in Paris! On Wednesday, I take off for Budapest, followed closely by Berlin, Prague and Milan. My entries will likely get considerably shorter and feature more pictures courtesy of Google, but hopefully I can keep updating for the next couple of weeks!